Behind the Scenes with Peak Extracts
Chances are you all know and love Peak Extracts, the brilliant Portland-based and women-run company that creates the strain-specific chocolate bars you see at just about every dispensary. They also produce the Rescue Rub salve, a cannabis based topical product that's used to treat pain inflammation and a variety of skin conditions. Created by the founder and CEO, Katie, who also happens to be a Chinese herbalist, the rub is made with a proprietary blend of herbs designed to treat muscle pain and inflammation.
From creating strain specific edibles to topicals, everything that Peak Extracts does is meticulously researched and rigorously tested before it ever gets out into the market. We sat down with the founder Katie Stem to get some insight into what goes on at Peak behind closed doors.
Tell us a little bit about how Peak Extracts got started. What's your mission?
Kate and I started Peak in 2014, but by then Katie had already been a medical patient for nearly ten years, and had been making Single-Strain Chocolates to control symptoms of her Crohn's disease for most of that time. She discovered that specific strains of cannabis were of great help but others didn't do much good or had unwanted side effects. Her goal was to be able to control both the dosage and the effects of cannabis administration, in a time where both were commonly left to chance.
When we started the company in 2014, the goal was to provide the same custom-tailored edibles experience to Oregon medical market. We transitioned to the adult use market in 2016 and were one of the first edibles processors licensed in Oregon.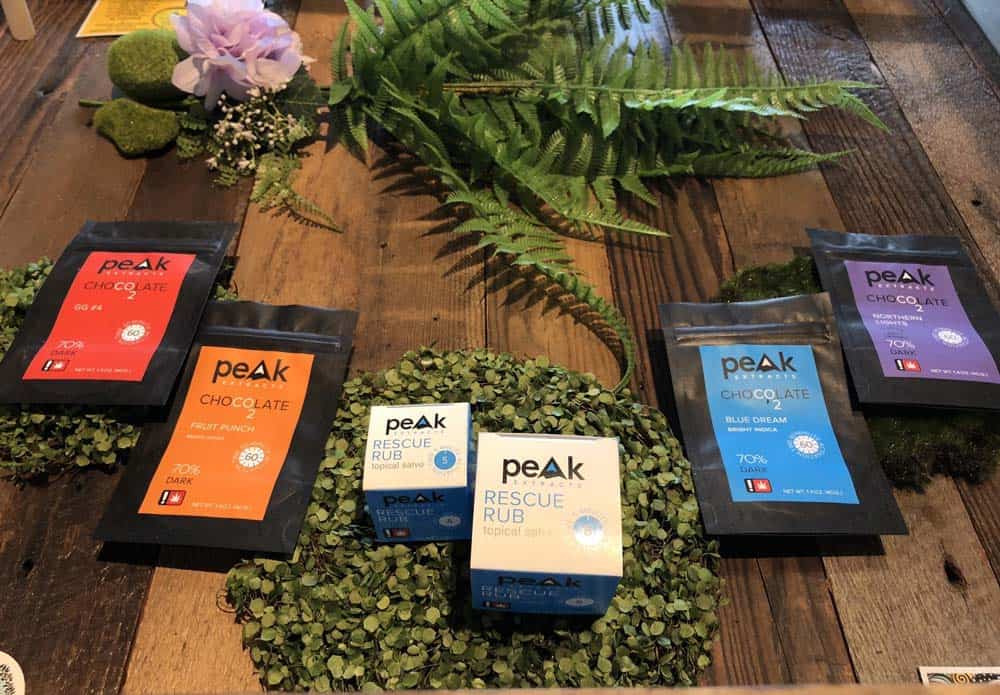 There's a lot of chocolate to choose from when it comes to cannabis edibles. How do you ensure Peak Extracts stands out from the crowd?
Being Single Strain sets us apart—no other edible maker has offered such a custom and versatile experience. Besides that, since we do all our own extraction, we get to choose the best material, and have our own way of processing it that we've honed for many years.
The idea is to retain as many terpenes, flavonoids and nuances of the original flower as possible.
Katie has a background in laboratory science and spent more than a decade doing research, and she has a fabulous time playing mad scientist in our lab.
Where do you source your cannabis flower from? How do you decide what farms/vendors to work with?
We work primarily with Yerba Buena and East Fork Cultivars, with some smaller side projects with other growers. We take this collaboration very seriously—we want to know that the people growing the cannabis we use have values and practices aligned with our own.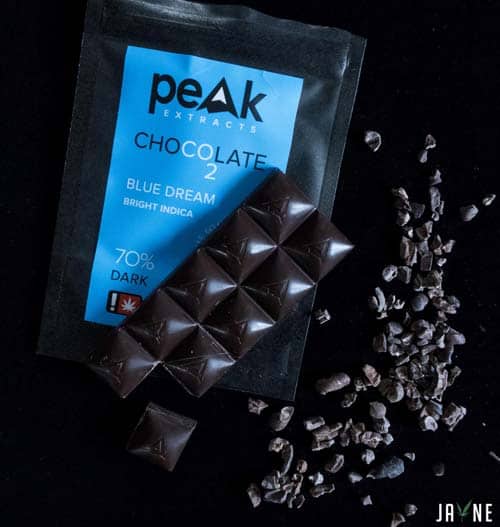 We look to work with people that care about sustainability, environmental impact, and medicinal benefits of cannabis. Both of our primary partners are extremely forward-thinking and dedicated. We love working with them.
Where is your chocolate sourced from?
We get our chocolate from a company that specializes in gourmet dark chocolate couverture that's suitable for making bars—it was a long process to find someone who could supply in large enough quantities to sustain us, that would also maintain consistency between lots and batches. They blend from different regions and the three main cacao cultivars to ensure a uniform and consistent product.
Can you describe how do you make your infused chocolate bars? Take us from flower to final product.
We take cannabis flower from our farm partners and prepare it using our proprietary method and extract it using CO2. We don't use any additional solvents, just a lot of care and deliberation. The oil is infused into the chocolate while it is undergoing the tempering process, which creates the glossy, snappy chocolate we've come to expect from a candy bar.
Why use CO2 for your extraction solvent?
Katie used many solvents to extract natural products during her years of research so there was a fair amount of deliberation. The hydrocarbons have some advantages, but in the end it was an obvious choice for us to use CO2 because of the environmental impact. When we're done processing our material, it goes back to the farm and is composted and reintegrated into their soil unlike with butane, where the waste material is hazardous and must be incinerated.
In addition, the hydrocarbons and ethanol are flammable. Since our facility is in the city, we wanted to minimize potential safety risks. We've learned to use CO2 to our best advantage in order to retain valuable compounds—it's an extremely versatile solvent that can be used in broad range of temperatures, flow rates and pressures depending on what you'd like to extract.
Anything fun that Peak Extracts is working on now?
We're particularly excited about our new strains from Yerba Buena. Blueberry Cough (blue), Pineapple Express (red), Dosi (purple), and Super Silver blue magoo (red) will all be out in the next few months. We also have a lovely wildcard/hybrid from Blissful Botanicals, Jillybean. They did a lovely job with that strain.
You've gotten a lot of positive feedback about your Rescue Rub. Can you tell us a little about its conception and uses?
Our CEO and Founder, Katie, is also a Chinese herbalist. She created the formula for Rescue Rub based on a topical herbal combination for blunt force trauma and inflammation that was written more than 2,000 years ago. She used it in her practice to treat arthritis and muscle pain, then when Peak was formed she modified the formula by adding cannabis oil.
We have reports of it helping with everything from neuropathy to muscle strains to healing tattoos. The other herbs in the formula synergize with the THC, a known analgesic, and create a stronger topical that is absorbed faster into the tissues. It takes about 5 minutes to take effect and lasts about 4 hours. We've found it to be invaluable for people who need pain relief but are worried about psychoactive effects.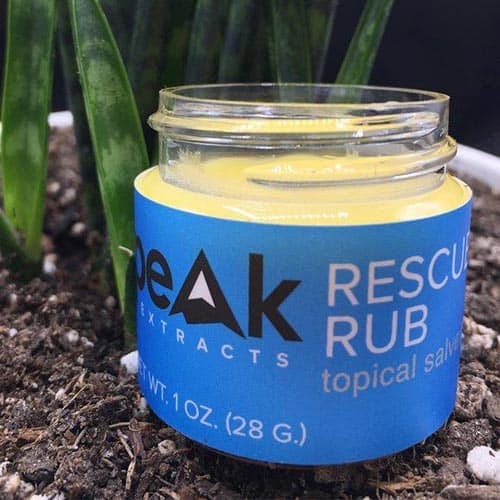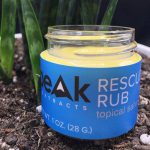 What are some challenges you face in the industry?
Ever-changing regulations are a big obstacle. It can be difficult to navigate the interaction between municipal, county, state and federal rules. We're also apprehensive about the changing climate nationwide. We're a locally owned, self-funded company that's been built from the ground up. Fortunately, Oregonians are famously passionate about local causes, and we are dedicated to staying in the market as long as we can.
What are you most proud of?
A Vietnam Veteran contacted us a few months ago to tell us that he had horrible nerve damage to his legs from the war, and had been unable to put a sheet or blanket over his legs since. He used the Rescue Rub before bed and was able to sleep through the night with covers on for the first time since the early 70s. Needless to say, we were all crying by the end of his story.
There are so many success stories with the chocolate as well. From endometriosis to insomnia to chemotherapy induced nausea, we hear about how are chocolate makes a positive impact on people's quality of life. We're also incredibly proud of the company we've built. It really did just start as two people who were passionate about the benefits of cannabis—and now we have a factory, many employees and a diverse product line. It's been an incredible journey.
What are your future goals/plans for Peak Extracts?
We hope to continue expanding our product line, while maintaining our dedication to quality. Our cartridge line debuted in January of 2018, with a focus on CBD cultivars. It took us years to get the right parameters to keep all the terpenes and flavonoids intact for this application. Our average cartridge has around 10% terpenes, which is much higher than the industry average. We have a few more products in the pipeline that we're excited about as well, and there's always discussions about expanding to other states.