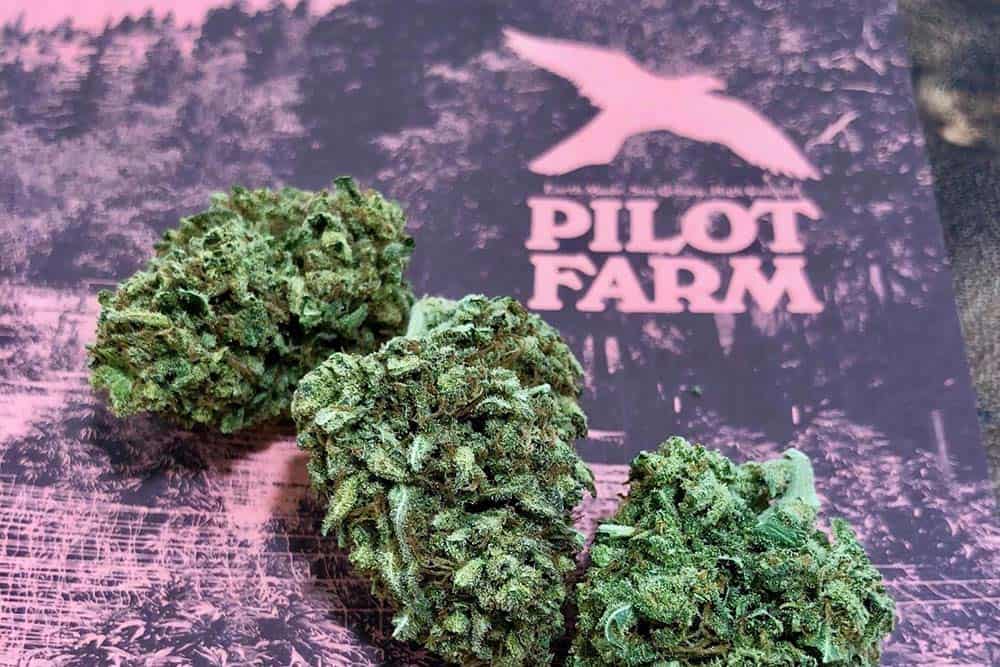 Why You'll Fall In Love With Pilot Farm
Every cultivar* you smoke is a labor of love.
Some are grown with a lot more love than others, the kind of love that can only come from Mother Nature herself.
These are the kind of flowers that are harvested in organic soil, grown only using natural compounds, sunlight and water.
We're proud to work with folks that honor this commitment to quality, which is exactly why we're so incredibly excited to be talking about Pilot Farm's latest cultivars today.
Sustainable Cannabis from Southern Oregon
Pilot Farm is 8 acres of pure sustainable, high elevation sun kissed cannabis that's grown in the mountain's native soil outside Ashland, OR. The flower here is all Clean Green Certified, meaning that every last cultivar is grown without use of pesticides or chemical fertilizers.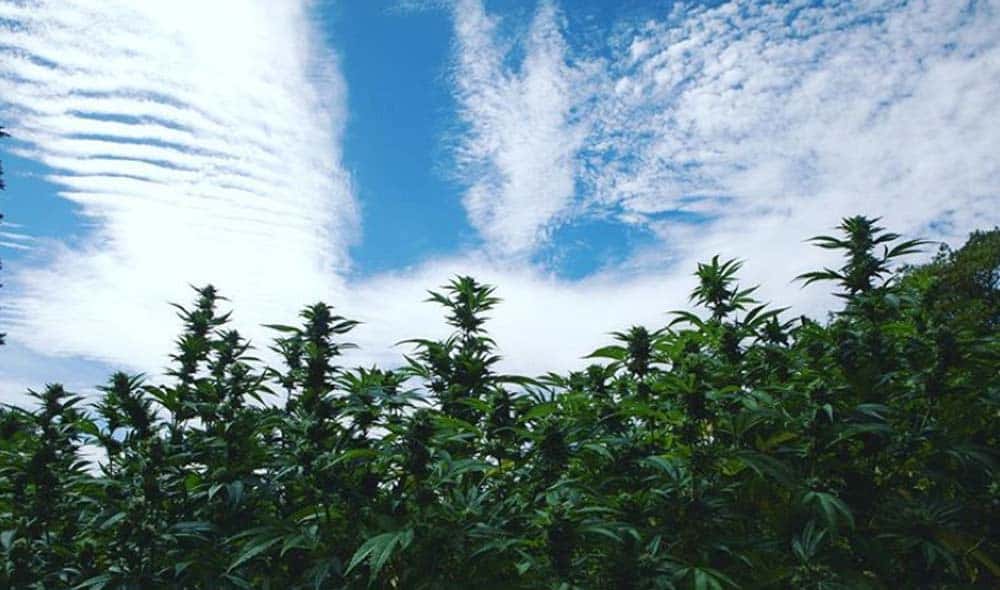 The unique biodiversity of the mountain terroir—along with the dedicated care of the Pilot Farm team—is what makes their flower so special.
Flowers grown on the farm are exposed to high density sunlight, an environmental stressor that pushes the plant to produce more terpenes and trichomes. The elevation at 3,800-4,500 ft. yields hot days and cold nights that are perfect for growing buds.
It's an area of land where the native soil combines with natural water, sunlight and the mountain breeze to produce flower Mother Nature herself would be proud of.
Let's Talk Oregon Cultivars:
Mountain Girl Blue, Jack Skellington & Mendocino Purple
We've got a few wonderful cultivars from Pilot Farm on our shelves right now. These include Mountain Girl Blue, Jack Skellington and Mendocino Purple. Let's dive into what makes each flower so unique.
Mountain Girl Blue

(Mountain Girl Lemon x Blue Dream). THC 21.24%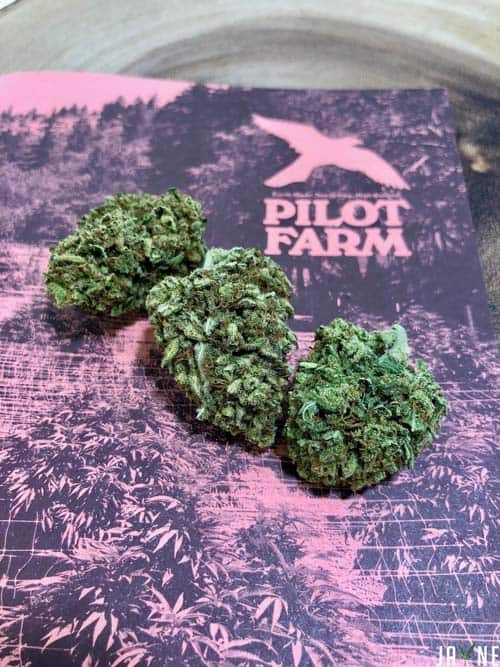 Primary terpenes:
Myrcene – 1.54%
a-Pinene – 0.41%
B-caryophyllene Limonene – 0.23%
Total Terpenes – 3.05%
If you tend to enjoy creative, cerebral head highs (most often "sativas"), then this is the flower for you.
The folks at Pilot took their Mountain Girl Lemon, a clear-headed, euphoric sativa that's incredibly high in terpenes (Limonene) and crossed it with Blue Dream to create a flower that's perfect for daytime use. It smells like summer, like lemons and blueberries, a waft of deliciousness that makes us yearn for backyard BBQs.
Mountain Girl Blue resembles the Blue Dream Cultivar more than anything else. You can taste the blueberry and the lemon in the smoke right before that blissful euphoria comes on. The first thing I feel is an anti-anxiety effect. Tightness in my chest is considerably loosened, and before long the cerebral giddiness and wave of creativity take over.
Pilot Farm went above and beyond the call of duty to educate the world about the Mountain Girl Blue cultivar. Here's a little data we gleaned from their Instagram:
Highest terpene volume, Myrcene, will not only yield a deep relaxation effect but may actually help increase the cultivar's psychoactivity "due to its ability to increase maximum saturation of the CB1 receptor thereby allowing more THC to bind and cause an effect".
The next most prominent terpene is Pinene, which makes perfect sense given the immediate chest pain relief I felt:

"Pinene is a powerful bronchodilator and may help the consumer to breathe a bit easier, absorb more oxygen and feel more focused as a result. The pinene coupled with the concentration of limonene, should help to contribute some medicinal properties, such as anti-anxiety, pain relieving, muscle relaxing properties"

Overall the unique combination of Myrcene, Pinene and Limonene yielded a flower that "may help heighten awareness, create clarity of mind and elevate mood!" We couldn't agree more.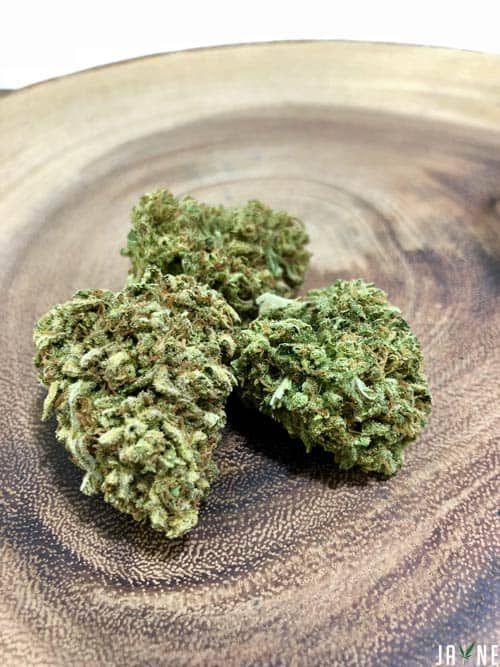 Jack Skellington

(Killer Queen x Jack the Ripper). 18.01% THC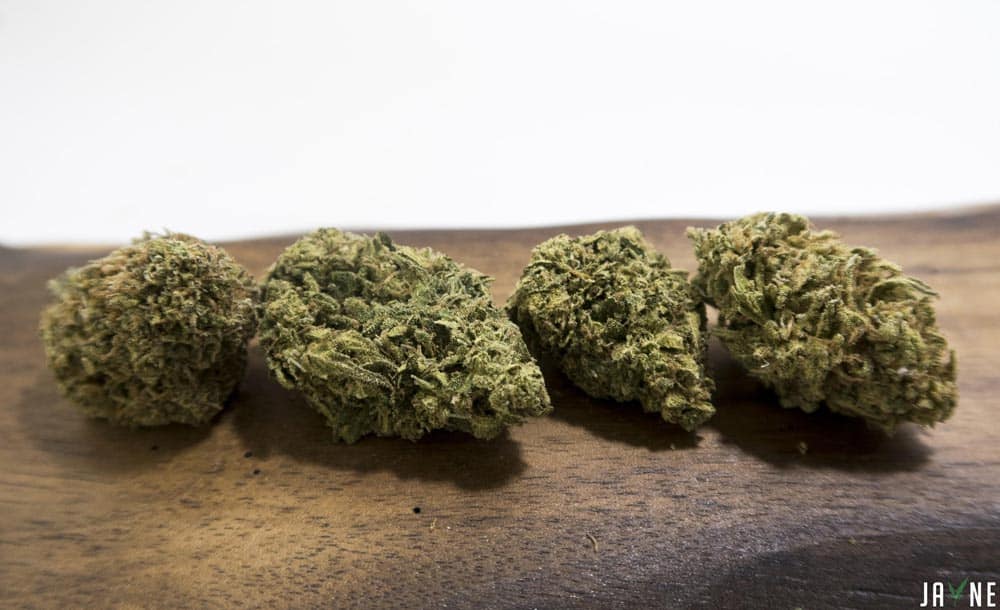 These light green, moderate density buds are very squat, almost looking like an indica in structure, but are secretly full of Limonene! The first scent that comes across is an earthy tone, a light diesel scent almost like fresh earth with lemons mixed in. Lab results confirm our initial hunch of Limonene as one of the main terpenes present, but there's a lot more than that lurking beneath the leaves:
Myrcene is the primary terpene followed by beta-Caryophyllene at 19.3% of volume followed by Limonene (13.3%) and Linalool (5.2%).
Beta-Caryophyllene is a spicy, peppery terpene that's found in many compounds including cloves, cinnamon, black pepper and rosemary. It works by binding to the CB2 receptors in our endocannabinoid system. The benefits of beta-Caryophyllene include:
Anti-inflammatory and analgesic
Alcohol craving reduction
Anti-cancer
Anti-anxiety and anti-depressant
Smoking the Jack instantly lifts my mood. I'm alert, focused and smiling, ready to take on the day. It's energetic without being racy thanks to the presence of the Linalool, a terpene found in lavender that's known for its soothing properties, making it a great daytime sativa to indulge in.
Mendocino Purple,

17.25% THC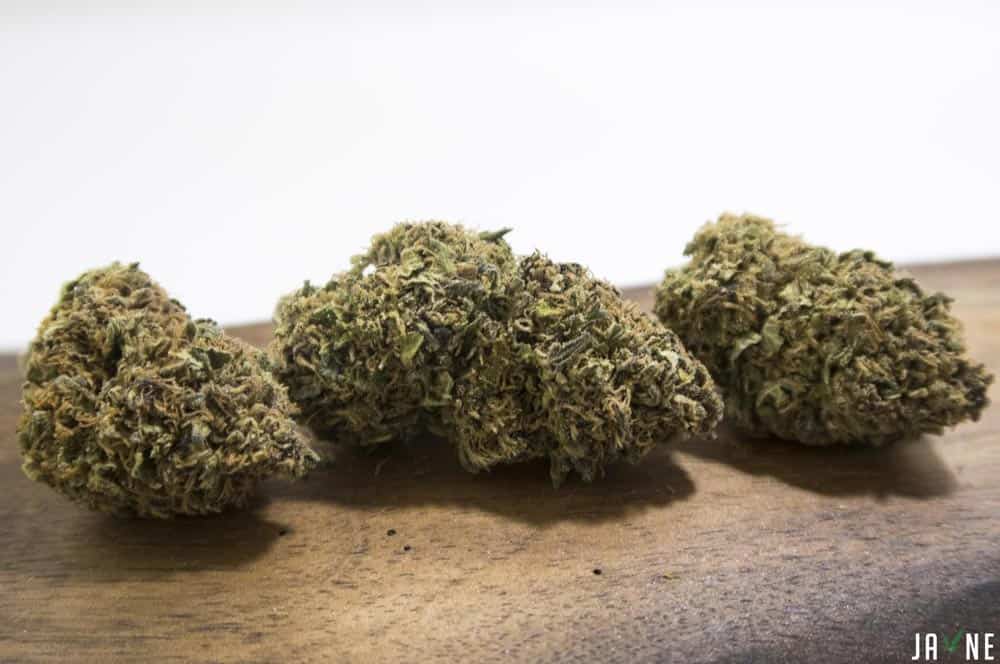 Towards the indica side of the spectrum we have the Mendocino Purple, a gorgeous cultivar with relaxing, sleepy effects. These nugs are significantly larger than their counterparts, suggesting a plant that's healthy, vital and happy. Dark green slowly becomes a purple as the color weaves through the nug, with long orange pistils peeking out everywhere. Earthy and berry notes mix with a slight hint of licorice for a bright note that's perfect for summer.
A few hits is all it takes to transport yourself to a calmer, more zen state of mind. It's a relaxed high that's not too heavy, one that I find really complements listening to an album or cooking dinner.
Have you ever tried Pilot Farm flower? What are some of your favorites?
*What is a 'cultivar' and why do you keep using that word instead of 'strain'?
Glad you asked, dear reader! The folks over at Cannabisnow have a great explanation for you:
"The word strain is borrowed from microbiology and is used to describe a genetic variant or subtype of a bacteria, fungus or virus. A more appropriate term to use for plants would be cultivar, which refers to cultivated plants.
The word ['cultivar'] originates directly from the term cultivated variety and is widely used in crop sciences. It is used to describe a subtaxon of a species so, in the case of cannabis, that would be applicable to describing the various crosses breeders make today."
You're the coolest. Mention this blog post to your budtender for $1 off every gram of Pilot Farm flower.
Love,
The Jayne team